No. 1, Mosh
"Super kind, All the other Gogos want to be friends with Mosh"
Stats:
Speed: [1]: Quite Low
Bounce: [3]: Moderate
Balance [4] Good
Overall, 8/15 (Average)
Colors: Green, Green 2, Indigo, Purple, Cyan, Exclusive Laser Mosh, Gold in Gold Collectors Tin.

Mosh is not the best in speed to strike opponents in "battle", its bounce is severely outclassed by Umu/Tai-Umu and Fist/Fizer. Overall this isnt a great gogo to use in games and the fact that is rare doesnt change this fact, this gogo should be kept in mint condition for collection purposes.
FAVORITE GAME: K.O.
SPECIAL ABILITY: MAGIC SMILE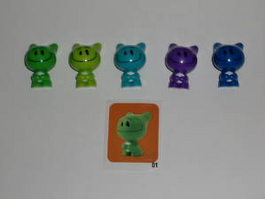 Ad blocker interference detected!
Wikia is a free-to-use site that makes money from advertising. We have a modified experience for viewers using ad blockers

Wikia is not accessible if you've made further modifications. Remove the custom ad blocker rule(s) and the page will load as expected.