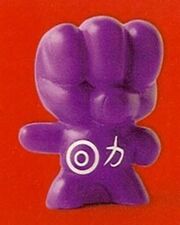 fist has a hand of a fist as a head with symbols on his body
Speed: 2
Bounce: 5
Balance: 3
Overall: 10/15 = good
Overall this gogo is a very worthy purchase for "K.O" because its 5/5 rated star of bounce gives it good smashes against other gogos, its balance is average and is bought better by Eco/Eken, its speed is outclassed by Helly/Heled but the bounce of it makes up for it, its usefulness dosent only come to "K.O" but also "Battle" because its significant amount of bounce can smash attack to other gogos, and good for countering from above those of larger 4/5 balance gogos.
his favorite game is BASKET and he's extremely rare
Ad blocker interference detected!
Wikia is a free-to-use site that makes money from advertising. We have a modified experience for viewers using ad blockers

Wikia is not accessible if you've made further modifications. Remove the custom ad blocker rule(s) and the page will load as expected.