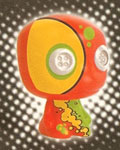 Angiru is gogo number 8. he is the 1st gogo to have a most wanted form!
stats:
Speed:2
Bounce:3
Balance:1
Overall score:6/15-not so good...
Overall this gogo whilst not the most terrible but still a very bad gogo to be used in games, its whole stats fit together is less than halfway, all its stats are completely outclassed, even its bounce, its speed is outclassed by Helly/Heled, Bounce by Fist/Fizer and Balance by Eco/Eken so at this point it should only be obtained for collection.
colors:red, dandilion,pink, orange ,yellow, and the most wanted color!
Angiru may not look popular,but he actually is because of his most wanted form!
Ad blocker interference detected!
Wikia is a free-to-use site that makes money from advertising. We have a modified experience for viewers using ad blockers

Wikia is not accessible if you've made further modifications. Remove the custom ad blocker rule(s) and the page will load as expected.